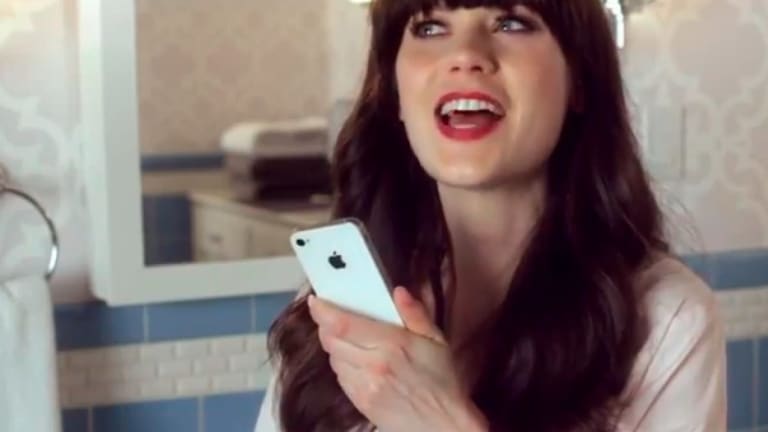 The Best Mobile Marketing Tool for Brands Is On the Lock Screen
The phrase "Don't leave home without it" was about a credit card, but now it applies just as much to smartphones. We love our phones. We talk to them, we depend on them to get us around, and we wouldn't dream of leaving home without them. According to Flurry Analytics, U.S. consumers spends an average of 2 hours and 38 minutes per day on smartphones and tablets. According to Nielsen, iPhone and Android usage for U.S. people over age 18 has increased 65 percent over just two years ago. In Q4 of 2013, users spent an average 30 hours and 15 minutes per month on mobile apps.
But in the midst of this mobile obsession, a new wave of simple apps, based on nothing but notifications, are clamoring to take up where Yo left off, to turn your lock screen into a carefully-curated hub where you only see the stuff you like.
"We're now entering an age where apps function as service layers. No longer battling for a 'homescreen' position, new apps are emerging that are only meant to be used when they have something to explicitly tell you, rather than functioning as time-wasters you browse idly during your downtime," writes Sara Perez in TechCrunch.
Push, made by a mobile development outfit called Munkee Apps, recommends news sites and blogs like CNN, Gizmodo, Huffington Post, and Drudge Report and lets you subscribe to entertainment interests like iTunes' Song of The Day, new Netflix releases or alerts you when your favorite accounts post on Instagram.
"Having a centralized location of information, especially if you don't need to swipe open your device, makes it really useful," said Push co-founder Omar Arambula.
Drop, made by a group of Parisian students, lets you subscribe to over 500 channels that push real-time notifications about fresh content from favorite websites, sports teams, blogs, TV shows, etc. Featured channels on the app include Game of Thrones, The Wall Street Journal, The Big Bang Theory, Rotten Tomatoes, and others.
"The value and interaction occurs on the lock screen and it doesn't take an open to derive value. This is great because the friction to 'use' the app is substantially decreased," said ProductHunt founder Ryan Hoover.
Ping, developed by the creators of Secret, will send custom notifications to your lock screen after you discover topics and interests like "Trending on Twitter" or "Apps Worth Downloading" or "Random Thoughts". (Ping says the app doesn't store usernames or passwords, and doesn't require access to your address book or contacts.)
But what if notifications went beyond publishers and TV shows? What if notifications were the best mobile marketing tool that brands have yet to tap? With so much content over-saturation, we often miss updates from our friends or pages we Like. What if you could Subscribe to specific interests and 'brand channels' on trusted social apps like Facebook, Twitter, Snapchat, Pinterest, et al, that would directly ping your lock screen? (Facebook already does this, in a sense, sending a notification when someone on your default Close Friends list has new activity.)
Or, if the user hadn't subscribed to that channel, brands could pay a premium media buy for 'Promoted Notifications.' Instead of dumping budgets into Promoted Posts or Promoted Tweets that consumers may or may not be see or engage with, Promoted Notifications would be direct-to-lock screen messages about the brands' activity, more likely to be seen and engaged with by mobile users whose interests matched the brand's targeting.
With any type of data taken from or pushed to us, there's always concern about privacy and permissions. The recent U2-Apple debacle is a good example of how selective people are about what content shows up unsolicited on their phones. And users can be terribly prickly about unwelcome advertising. (BuzzFeed News recently uncovered Bluetooth devices called 'beacons' hidden in several New York City phone kiosks and booths that can push ads to your nearby phone and track your movements.) The wrinkle of service layer apps like Push, Ping, and Drop is that users tacitly opt-in to receiving notifications.
But if social media platforms like Facebook and Twitter proactively screened the brand partnerships and campaigns, Promoted Notifications could provide a new revenue stream for the platforms and a more quality ROI for brands looking to reach mobile and millennial audiences.
While being notified about and interacting with only the stuff you want to see may provide a better user experience, social platforms may not been keen on notification-only features. They rely on the addictive 'sticky factor' of their apps to keep you coming back and spending as much time as possible using them, and therefore can sell advertisers against those numbers. If you spend less time on your phone mindlessly scrolling through Facebook and Instagram and Twitter, you're less valuable to their advertisers and investors. But if branded notifications could be monetized, optimized, and normalized as a form of responsible engagement, social media marketing on mobile could be revolutionized.
Matthew Bryan Beck is a New York-based writer, strategist, and advertising creative and a contributor to ReadWrite. Follow him on Twitter @ibeck.
[Photo: Zoey Deschanel Rainy Day Apple ad]