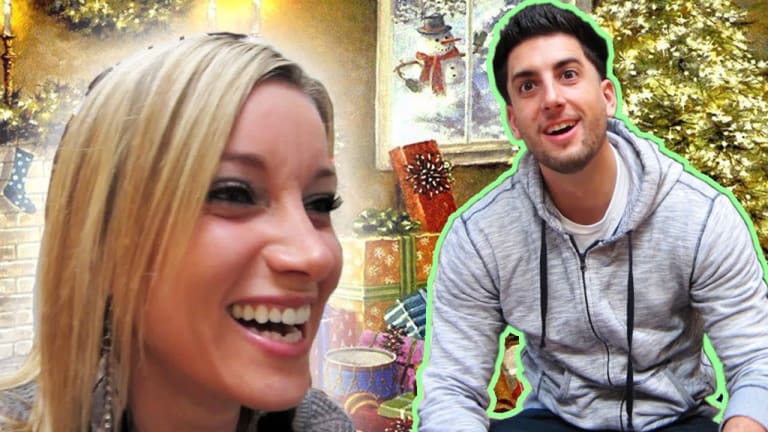 The New Media Stars of YouTube
There is now an entire universe of youngsters becoming YouTube famous before traditional media can even begin to take notice.
With the explosion of social networks and the eyeballs flocking to them, it's easy to forget about YouTube, the first playground for user-generated content. But even before Facebook and Twitter, there was YouTube, and these days, YouTube is a hot ticket for content creation and as a platform for sharing and commenting.
And now with YouTube channels like AwesomenessTV, which targets Gen Z viewers and makers, things are exploding on YouTube, too. These days, AwesomenessTV has racked up 38 million subscribers and 500 million views across all its various channels, and attracting brand ads from Target, Subway, Aquafina, and movie studios plus a spin-off show on Nickelodeon — that's real TV.
There is now an entire universe of youngsters becoming YouTube famous before traditional media can even begin to take notice. And these news stars of social media are falling into certain genres of videos. Almost everyone who is becoming YouTube famous these days does so by falling into one of these categories: product reviews; video games; comedy; lifestyle; and music.
Even more significant: YouTube stars are even more popular than mainstream celebs with U.S. teens. Even if you're not watching YouTube, your kids, Generation Z and plenty of other people are.
Here's who some of the new small-screen celebrities are:
The Product Reviewers
EvanTubeHD — Evan is a cute kid who started making Angry Bird videos with his dad, and now that his YouTube channel EvanTubeHD has nearly 750,000 subscribers, he's one of the top reviewers of toys and video games on the Internet.
Kan & Aki — Sure, they only speak Japanese, but their cuteness is universal. Like Evan, they review toys plus age-appropriate candy-making and restaurant reviews (with bonus magic show). With nearly 400,000 subscribers, their YouTube channel is as crazy as any Pokemon cartoon except totally real.
Benny and Rafi Fine — The Fine brothers are the creators of the Kids React series, for instance, Kids React to Cat Videos (and the spin-offs: Teens React, Elders React, YouTubers React, etc.) The concept is simple: show internet videos to kids and film their cute and honest responses. Through this platform, the Fine brothers have picked up sponsorships from Comedy Central, Infinity and Ford and gained 9.7 million subscribers. Bonus: Teens React to Weird Al Yankovic.
The Video Gamers
The video gamer genre is one of the most popular on YouTube. There are many more than we have listed here, but this is a good starter kit
TheRadBrad — Bradly Colburn is known to his 3.25 million YouTube subscribers as TheRadBrad, and famous for his video game "walkthroughs," which are surprisingly smart, funny, and honest in the way that he breaks things when he can't pass a level.
ElRubiusOMG — Ruben Gurdenen is ElRubiusOMG on YouTube with nearly 8 million subscribers. He is one of the top (but certainly not the only) Spanish-language video game commentators and reviewers.
CaptainSparklez — Known as Jordan Maron to his parents, CaptainSparklez has amassed nearly 8 million YouTube subscribers and has surpassed 1 billion total views. If you're really into Minecraft or Grand Theft Auto or Call of Duty: Zombie Edition, then this is they YouTube channel for you.
BlueXephos — The main channel for Yogscast, a band of British video-game reviewers, BlueXephos has accumulated more than 7 million subscribers. Lots of Minecraft videos; lots of them. And World of Warcraft and other things, but mostly Minecraft.
The Comedians
Jenna Marbles — The entire concept that someone could become YouTube famous for a series of personal video blog entries was pretty much pioneered by Jenna Marbles back in 2010. Before her, it was just that "Leave Britney Alone!" guy. Now with nearly 14 million YouTube subscribers, Jenna has just recently posted her 200th video.
Zay Zay Fredericks — The next Jenna Marbles might be this kid named Zay Zay; he is 7 and brother Jojo is five. The Fredericks boys got their start on AwesomenessTV, and now Zay Zay has his own YouTube channel with a mere 44,000 subscribers. But he's working hard to bump that number up. "Come on, subscribe to my channel. I'm cute!"
HolaSoyGerman — German Garmendia is a fast-talking 23-year-old Chilean dude spitting out funny videos in Spanish. His style appears to be part John Leguizamo, part Robin Williams, and part Borat — all in Spanish. No wonder he has racked up nearly 19 million subscribers on his YouTube channel.
PrankvsPrank — When a boy meets a girl and they both like prank videos, things can get out of hand quick. And when they post those videos to YouTube as the PrankvsPrank channel, they can draw nearly 6 million subscribers. This is what Punk'd would probably have been like if Ashton Kutcher was dating a girl his age.
The Lifestyle VLoggers
Lauren Luke —Uploading make-up tutorials to her YouTube channel, Panacea81, Lauren Luke has gone way more than viral. She has parlayed her 500,000 subscribers into a makeup deal with Sephora and now she's writing a book.
Teala Dunn — Starting from her channel on AwesomenessTV, Tealaxx2, Teala has nearly 400,000 subscribers, mostly Gen Z girls who are looking for her style tips, tours of her bedroom, and makeup tutorials. If you're not the target demo, these videos can be touch to endure.
Michelle Phan — Ms. Phan's videos, by contrast, are much more watchable and her following proves it: nearly 6.9 million subscribers to the MichellePhan channel. Her makeup and style guides have catapulted her into a deal with L'Oreal and the EM product line with 250 products.
You can see many more popular YouTube beauty stars here.
The Musicians
Cimorelli — Think about Cimorelli as an all-female Jackson 5, except there's 6 of them. The singing sisters from southern California have made their name on YouTube, generated an ad endorsement from Subway, and nabbed a real record deal. Their YouTube channel, CimorelliTheBand, has accumulated 2.8 million subscribers.
Dave Days — Some people's obsession with Miley Cyrus is unhealthy. For Dave Days, he's translated his quirky obsession into pop tunes and 1.6 million YouTube subscribers.
Esmee Denters — She was just a normal girl from the Netherlands making music on YouTube. She covers songs by the likes of John Legend and has generated almost 250,000 subscribers to her channel, EsmeeDenters and a brief relationship with Interscope Records.
And just in case you're wondering if these stars are just a flash in the pan? Remember that Justin Bieber's career started on YouTube after he was discovered by Usher. Thanks, Usher.